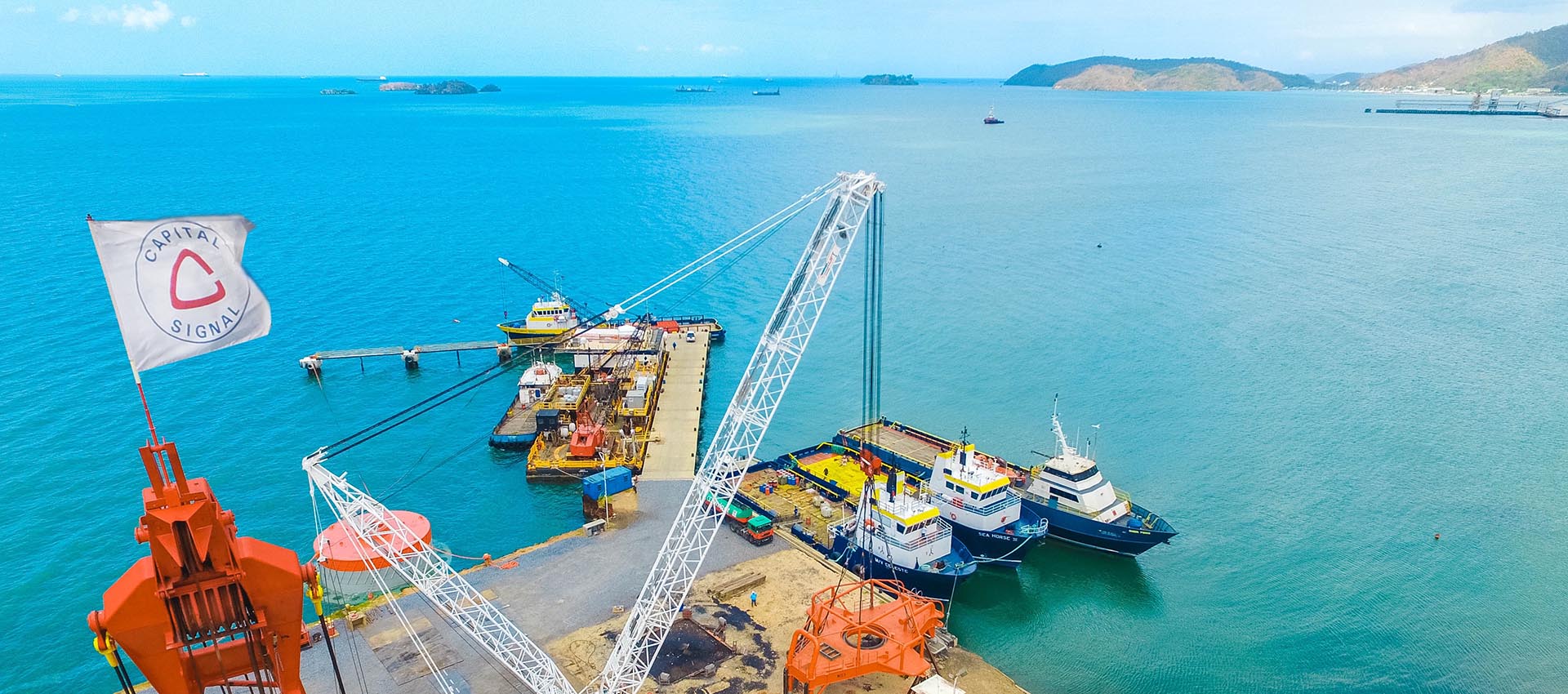 Capital Signal Celebrates 30th Anniversary
Capital Signal was established in Chaguaramas, Trinidad and Tobago, West Indies, by two local entrepreneurs providing marine construction and engineering services to the local and regional marine industry. The company quickly earned industry recognition and reputation for safety, reliability and efficiency.
Capital Signal begins to provide marine surveying and geosciences services to meet the growing demand in the region for reliability and enhanced accuracy.
Capital Signal's continued growth in marine construction, surveying and geosciences services requires moving to a larger marine facility in Carenage as well as establishing a shore-base in Venezuela to serve the South American market.
Capital Signal opens office in Ciudad del Carmen, Mexico.
Geotrace Trinidad Limited: Established a joint venture in Trinidad to provide seismic processing / reprocessing services regionally. Additionally our regional support office in Barbados opens.
The company employs 145 people comprising a mix of locals and expatriates providing best-in-class, safe, highly focused and cost effective services to our clientele. Capital Signal's structure includes Marine Construction, Geosciences and Marine Support divisions, all equipped to cater to the unique demands of each business.
Capital Signal constructed its own Port Facility to support local, regional and international projects.
En route to celebrating our 25th year in business, Capital Signal  begins capital investment campaign to upgrade waterfront facilities.
Capital Signal expands Port Operations, mobilizing vessels for Surveys and Oil/Gas Projects.
Capital Signal celebrates 30 years of excellence in the Marine Construction industry.
The prestigious Capital Signal Company Limited is celebrating its 30th Anniversary. This milestone does not just represent 30 years of quality service to the region but it also represents years of resilience, reliability, safety and professionalism.
Capital Signal Company Limited (CSCL) is a Trinidadian owned/registered company founded in 1992. Headquartered in Carenage, it provides a full range of professional solutions for the marine construction and survey industry. They have a team of highly qualified engineers, specialises in Ports, Rivers, Coastal Protection, Marine Infrastructures, Dredging, Surveys, Geotechnical and Environmental Services.
In 2015, Capital Signal designed and constructed their very own full services Shore-Base and Port Facility, primarily to support the operations of the Oil and Gas sector, Mobilisation/Demobilisation of offshore projects, Fabrication/Welding, Cargo handling, Wet docking, grit-blasting/painting and all other vessel and shore-based needs.
Capital Signal Company Limited is known for its dedication to the safe, quality delivery of its projects and is the recipient of the TTCA Civil Contractor of the Year Award (2009), Caribbean Construction Award for Contracting (2011) and placed as a finalist for the OSHA National Safety Award (2010) in the Large Company Category amongst operators such as ALNG and BPTT.
Testimonial to its quality service and commitment to getting the job done well, Capital Signal has developed an impressive list of clients from major oil and gas operators to military operations and governmental organisations. Some of its clients include: BP, BHP, Shell, Canadian Superior, Chevron, Conoco-Philips, EOG Resources, PdVSA, Pemex, Repsol, Inpex, Murphy, Centrica, AllSeas, ODL/Noble Denton, Heerema, Technip.  Governmental Agencies and Private Organisations in: Antigua, Barbados, BVI (Tortolla), Haiti, Dominica, Dominican Republic, Guyana, Grenada, Saba, St Lucia, St Kitts, St Vincent and the Grenadines, Curacao, Montserrat, Mustique, Trinidad & Tobago and Venezuela.
"A Dream Becomes Reality"
Where we are today was but a dream 30 years ago. Our vision is to continue on the road to being the Company of choice locally and regionally for Marine related projects and we have a young vibrant staff to take it there." These were the words of Barry Rostant, President of Capital Signal Company Limited in an interview.
Questioned on the impact of COVID-19 on the Company, Rostant explained, "As with most Companies, COVID-19 has definitely had an impact on CSCL. Most notably was our inability to conduct marine construction work regionally, with the prolonged and stringent lock downs that had been in place, coupled with the deferral or cancellation of some potential projects." He added, "Fortunately, together with our Port Operations, we were able to secure a few projects here at home to keep our construction division ticking over (albeit at a slower pace than normal) and so managed to maintain our normal staffing levels."
As for what challenges he foresees for the industry in light of the pandemic, CSCL's President indicated that there might be supply problems in the short to medium term. "We are already seeing lead time on a lot of construction materials slipping and an escalation of prices. This will mean some projects being deferred or cancelled altogether."
However, CSCL has proven to be a resilient company and this can be as a result of its reputation and determination. Rostant disclosed, "We are always investigating new avenues for revenue and have MOU's in place with specialist suppliers so as to offer a wide range of services…a 'one-stop shop' of sorts. We are looking forward to the next phase of our Port Facility Upgrade to better serve our clients."
This is not all that there is to CSCL, however. The Company focuses on giving back and making a positive contribution to society. For many years it has supported charitable causes and organisations, offered community support and employee on the job training.
The President took the opportunity to send out his condolences on the passing of the four divers who died while carrying out works on an underwater pipeline. He said, "The recent tragedy of the loss of four divers is a stark reminder of the risks that exist in the construction industry. These guys have worked with us in the past and so, it has put a damper on the mood. Condolences to all their family and friends
"Resilience in an ever-changing world"
Capital Signal has reinvented itself a few times in its first 30 years. This was pointed out by the Company's CEO, Roland Herrera who added, "The past two years have shown us that our Port facility has become an essential component of our maritime services. Beyond that, our people have always been the cornerstone of our business. Future developments of our Port will provide more meaningful skilled employment for our local community while also providing robust and highly specialised maritime support services for our region."
Questioned on the impact of COVID-19 on the industry, Herrera shared, "COVID-19 has been a tragedy for our country and for much of the world. It's been a hard two years, especially being cut off or highly restricted from the international and regional work opportunities upon which we typically rely. Many of the construction projects that we engage in were also postponed or shelved. We really had to lean into our port facility to stay afloat and we are very proud to have maintained a full and active workforce throughout the pandemic while still providing an essential service to our community. Everyone on our staff came together, took our safety and wellbeing seriously and we all tightened our belts where we could. We could not have gotten through this without our exceptional team. I really want to extend my gratitude to our employees. They make the difference for us. I'd be remiss if I did not acknowledge that not everyone has been so fortunate and it has been even tougher times for many."
As for what he sees in the future for the industry, the CEO said, "There is pressure for sure. The most notable challenges I see include reduced vitality in our local petrochemical industries as well as inflationary and supply chain pressures causing costs and durations of projects to increase in general." He continued, "Coupled with T&T's economic slowdowns over the past five years, the total volume of services needed in the maritime services industry is not as robust as it once was. Our country relies on certain volumes of work to maintain these highly specialised services and the people who can perform them. When there is a slowdown, it hurts everyone. We have to get creative to maintain our regional relevance in the maritime service sector."
Even while doing all of this and ensuring it maintains viability in an ever-changing world, CSCL has not forgotten its commitment to give back. Herrera pointed out that the Company's focus has been to support its local community. "Supporting them has been crucial to our success" he stated. "We hire as many as we can from our area and we invest in the training and skill development for our team. The majority of our jobs are at or above the median wages for T&T and we hope this contributes to elevated standards of living in our area. Our country today boasts a much larger workforce specialised in maritime service skills that otherwise had to be imported. We like to think we played a role in that. We are also proud to have sponsored youth and cultural activities over the years, from sports teams to pan yards, among other things."
Due to its close link with the community and those in the industry, CSCL is mourning the loss of the divers who died in the underwater pipeline while carrying out work. "It is a tragic situation and we are deeply saddened by the losses of those guys. Our hearts go out to the families. Our industry is small, everyone knows everyone and this one really hits close to home. It's a very sad moment for the LMCS families and for all of us."
"We are the best"
 Sebastian Anthony Jagdeo has been with CSCL for 14 years. He is currently the Company's General Manager tasked with handling the operationalization of the company's strategy.  His role comes with an overall responsibility of divisions' activities, including technical, operational and commercial as well as business development matters at the Trinidad and Mexico offices.
Jagdeo recounted his experience at CSCL while insisting that "Hard work and dedication pay off." He related, "I can remember my very first day on August 11th 2008. I was excited, scared, and even eager for this challenge to work for Capital Signal. I started as a Junior Offshore Surveyor in my earlier days and took the initiative to step out of my comfort zone, learning about the other company divisions; Geotechnical Engineering and Marine Construction. As a result, I was given the opportunity to lead teams and projects across divisions, inclusive of our Mexico Office (Capital Signal de Mexico). Throughout the years, with further studies and experience, then came the roles of Project Manager, Operations Manager and now GM. I am appreciative to be in a position to now mould our promising staff and continue to create opportunities for the reward and recognition of "a solid and honest day's work."
Questioned on the rewards of his job, he pointed out that there is an increased trust and reliance on his ability to utilise his creativity, knowledge and experience to meet the company's goals. Jagdeo excitedly added, "We are the best! This has echoed throughout Trinidad and the Caribbean from clients to competitors."
Of course, with rewards there must be challenges to overcome. As Jagdeo explained, it has been a challenge maintaining an absolute and competitive advantage in an ever-evolving industry whilst providing quality and professional services in the Marine Construction Sector. He added, "Also, maintaining international standards and a flawless track record, we are often overlooked in the industry as a leading marine contractor right here in Trinidad and Tobago."
So how does Jadgeo feel about this 30th Anniversary celebration? "I feel very proud for our Founders, Barry Rostant and Roland Herrera, especially knowing of their journey throughout the years – I've seen 14 of them. Celebrating this achievement with them is not only an honour but a privilege."
"Stronger than ever"
Adam Rostant is CSCL's Port and Facility Manager. At the age of 30, his hefty role sees him planning, administering and reviewing the operations of the company's Port Facility at Carenage. He also works with clients to understand, design and execute a port plan which encompasses logistics, HSSE, equipment and personnel requirements to deliver each project safely, on time and within budget. For the past eight years, Rostant has been performing exceptionally in his role.
He explained that the rewards of this job are the challenges that it brings. "With an ever changing landscape which is the marine/offshore construction and oil and gas operations, clients' requests are constantly evolving. CSCL prides itself in being a one-stop shop where we find solutions for our clients when others cannot. In preparation, successful execution and client satisfaction, is where the reward is felt" he said.
"This role" he added "brings a sense of fulfilment as I am involved in each project from inception to completion. Having supporting staff and directors also makes for a productive atmosphere where diversification and growth is always a possibility."
Questioned on how he feels about celebrating CSCL's anniversary he smiled and responded, "Celebrating this 30th Anniversary is a major achievement for our Company and Directors. Sometimes it's not about what, but how, and I feel proud to be a part of how we meet this 30 year achievement. We have managed to navigate through these tough times and keep our entire Capital Signal family together, and coming into our 30th year, we feel stronger than ever as a company."
"Proud to be here"
With Capital Signal for 15 years, when asked how he feels about celebrating the Company's anniversary, Ramon Khan, Manager of Finance and Administration said, "I'm proud to be here for half the 30 years!"
Khan's huge role at Capital Signal entails overseeing the company's finances and ensuring the most efficient use of funds in the daily operations. He also manages the financial records, cash flow and data analysis.
Indeed, this job comes with its own challenges including being able to handle the balancing act between revenue and the demands for cash and being able to pay salaries on time throughout Covid-19, however, Khan's expertise has certainly enabled him to navigate CSCL through the slumping economy and the impacts of  Covid.]
CSCL is proud to have him on its team.